Cooperative Works: Equitable Business Development for Building Retrofits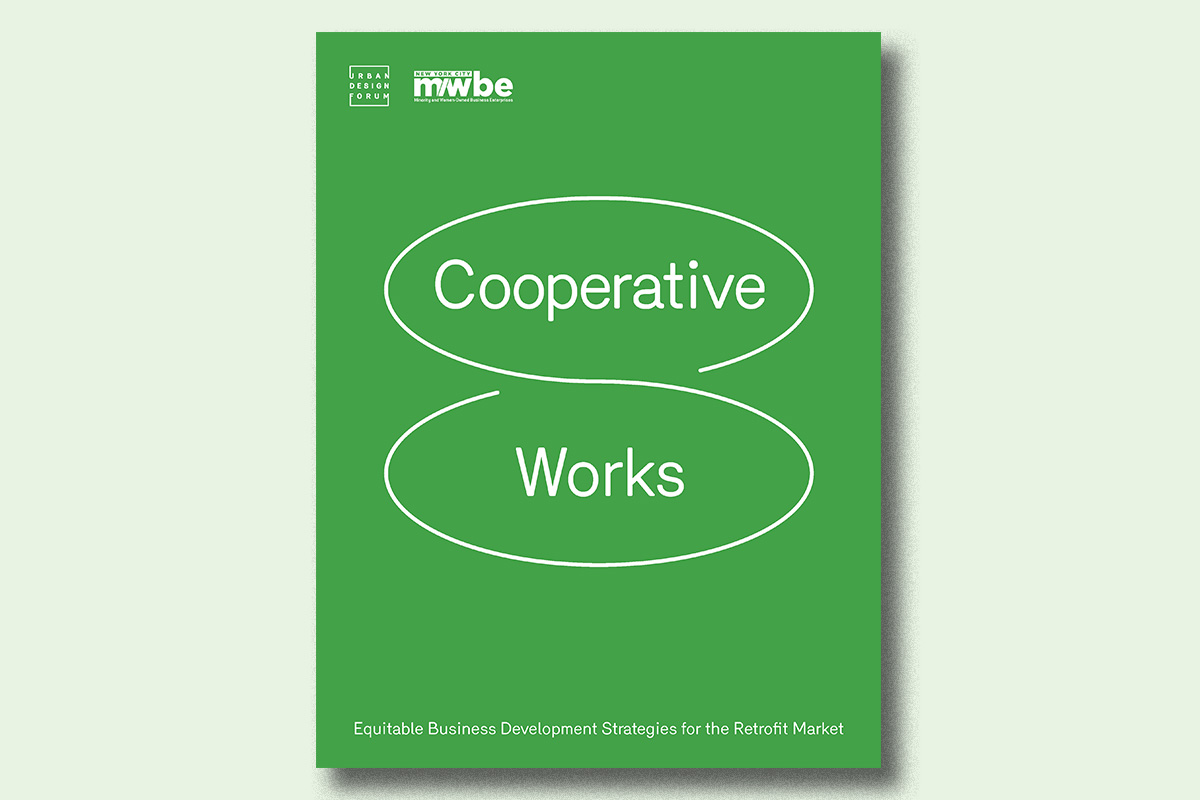 (January 22, 2020—New York City) —Urban Design Forum is pleased to release its latest report, Cooperative Works: Equitable Business Development for Building Retrofits, exploring how to deepen New York City's climate commitments through investment in minority-owned businesses and workers of color. 
This fall, the Urban Design Forum partnered with the Office of the Deputy Mayor for Strategic Policy Initiatives J. Phillip Thompson and the Mayor's Office of M/WBE to research strategies for equitable economic development in the building energy efficiency retrofit sector. Spurred by the Climate Mobilization Act's Local Law 97, the emerging retrofit sector presents a critical opportunity to support long-term growth for MWBEs that have historically been excluded from market opportunities, while achieving sweeping reductions in building carbon emissions. 
The Forum convened a diverse group of 26 emerging leaders — from consulting and development experts to business and environmental policy advisors to city planners and architects — to tackle this challenge through the Forefront Fellowship. The Fellows spent three months researching and interviewing more than 40 New York-based and national stakeholders.
As New York City plans for an equitable economic recovery from the COVID-19 pandemic, this technical report presents grounded landscape analysis and actionable proposals for supporting MWBEs. The report surveys opportunities to:
Support minority- and women-owned businesses

to expand their capacity in this sector

Expand employee ownership

among existing and new businesses

Renew workforce development

through targeted training opportunities

Catalyze new approaches to innovation

that put MWBEs at the forefront of new technologies
"Our efforts to address climate change must also address social and economic inequalities," said Deputy Mayor for Strategic Policy Initiatives J. Phillip Thompson. "The inclusive business development strategies set forth in the Urban Design Forum's Cooperative Works report position MWBEs for growth while meeting the City's carbon reduction goals, proving climate change mitigation strategies can and should address the racial wealth gap."
"Our cohort proved that New York City can lead in confronting climate change while building a fairer economy for all New Yorkers," said Daniel McPhee, Executive Director of the Urban Design Forum. "We can build a new workforce led by MWBEs and worker cooperatives as our city launches a sweeping campaign to cut emissions among the largest buildings by 80% by 2050."
The COVID-19 pandemic has underscored and deepened the vast inequities in economic opportunity in New York City. The Forum hopes that this report will support the City's continued efforts to strengthen business creation and growth for minority-owned businesses while advancing ambitious climate action.
Authors ↓
Polina Bakhteiarov
Ricardo Aaron Carrillo
Jhordan Channer
Jen Grosso
Andrew Harris
Donna U. Hope
William Hsu
Matthew Khinda
Jonathan Lane
Sheila Lin
Stefanie Loomis
Tiera Mack
Darina Mayfield
Cara Michell
Thomas Mitchell
Neil Muir
Priya Mulgaonkar
Aden Munassar
Karen Narefsky
Shachi Pandey
Alexandra Paty Diaz
Isella Ramirez
Kate Selden
Addison Vawters
Annie White
Ebony Wiggins
Editors ↓
Katherine Sacco
Editorial Support ↓
Kima Hibbert
Design ↓
Partners & Partners