Connect the Brooklyn and Queens Waterfronts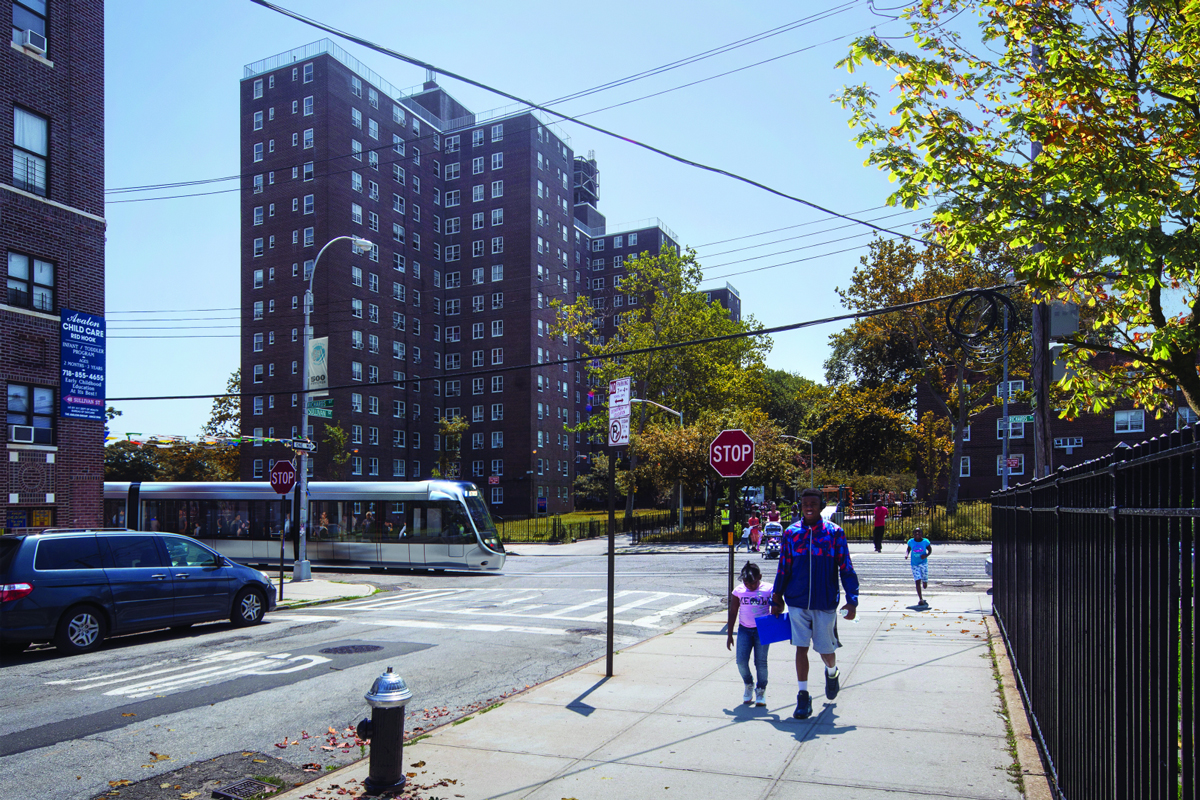 In the past five years subway delays have doubled, bus service has deteriorated, ridership has declined, and fares have only gone up, with no new thinking in Albany or Washington on how to provide much needed funding. New York City has one of the oldest and most extensive transit systems in the world; but as our population grows, the city is struggling to keep up. We need more public transit and we can't afford to wait.
The Brooklyn and Queens waterfront is the new heart of New York—where people want to work, live, and gather—yet it has seen no significant investment in its transportation infrastructure in nearly a century. The population is forecast to increase 30% by 2045 as tens of thousands of housing units and millions of square feet of commercial space are being developed in the area. With limited transit options, the environmental impact of new development is compounding.
New neighborhoods are rising on the water's edge, but lack reliable public transit. Let's build the Brooklyn Queens Connector (BQX).
The solution is the Brooklyn Queens Connector (BQX)—a state-of-the-art streetcar running between Astoria and Sunset Park—to complement and strengthen our existing transit network by serving this area. It will create additional jobs, alleviate congestion, and connect low-income New Yorkers—including 44,000 public housing residents living along the corridor—to new employment opportunities and recreational amenities.
The BQX will run on tracks in the existing roadway, separated from traffic and bicycles along the route. It will be efficient and sustainable, traveling with zero on-point emissions. Stations and tracks will be ADA-compliant, and designed to accommodate major weather and flood events. Each train will have the capacity for 150 passengers, all enjoying real-time arrival and location information as well as reliable access to Wi-Fi. The result will be a significant reduction in travel times along the route–hundreds of hours saved annually for millions of riders.
The BQX could be built using a value-capture strategy to ensure it does not compete with the city's other transit priorities. New development along the corridor would generate more than enough value to pay for the BQX's construction without relying on federal or state aid. The network could still be fully integrated in the MTA's payment system, allowing riders to utilize MetroCards for transfers and fare payment. And though the MTA does not need to operate of the BQX, the operating agent should still employ union personnel.
A one-seat ride between Brooklyn and Queens without going through Manhattan should not be a blue-sky proposal. It is a necessary transit service for the 400,000 New Yorkers who live and 300,000 who work on the Brooklyn-Queens waterfront today, and a necessary investment if we are to grow sustainability and equitably as a city.
–
Friends of Brooklyn Queens Connector (BQX) is a non-profit whose mission is to educate and engage communities along the proposed 16-mile BQX streetcar corridor in order to foster participation in the planning process and to build public support across six Community Boards and seven City Council Districts.