Compost Works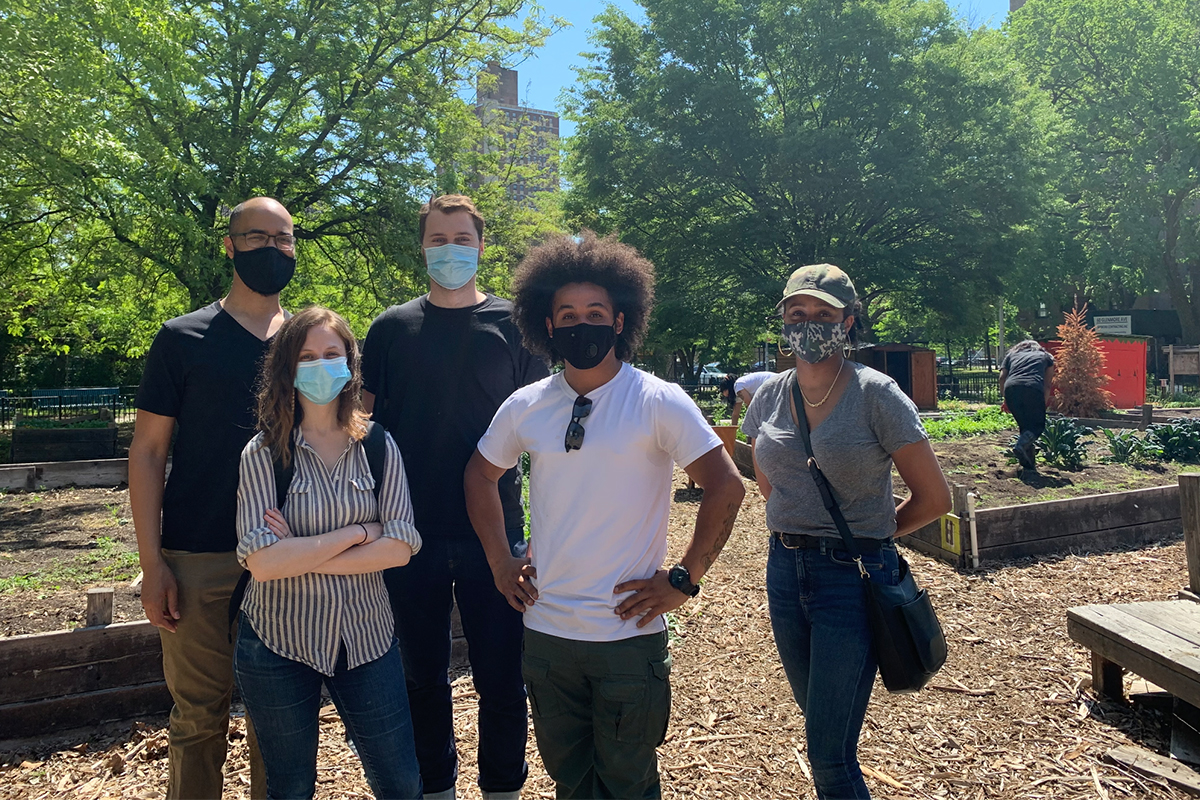 The Urban Design Forum's 2020 Forefront Fellowship,

Cooperative Works

, explored how to support minority-owned businesses and workers of color, expand worker cooperatives, and democratize economic resources to build a more inclusive economy. In partnership with the Deputy Mayor for Strategic Policy Initiatives and the Mayor's Office of M/WBE, Fellows investigated how to create economic opportunity for MWBEs and employee-owned businesses through climate investment, leveraging Local Law 97.
This spring, Fellows developed original projects that explore how to build local power through composting, develop innovative financing for green cooperatives, and scale green entrepreneurship. Explore all proposals here.
by Polina Bakhteiarov, Matthew Khinda, Darina Mayfield, Neil Muir, Aden Munassar, Karen Narefsky
Creating and sustaining green careers — not just jobs — requires supporting entrepreneurship and grassroots businesses alongside a holistic and long-term approach to training and workforce development. Compost Power is an exemplary model of green entrepreneurship that has the opportunity to generate meaningful careers in composting for NYCHA residents and BIPOC New Yorkers while changing the perception of composting in the city environment. By supporting the operations and growth of Compost Power, we directly fostered a green careers pathway while also developing a broader set of best practices to support other green entrepreneurs, M/WBEs, and workers of color.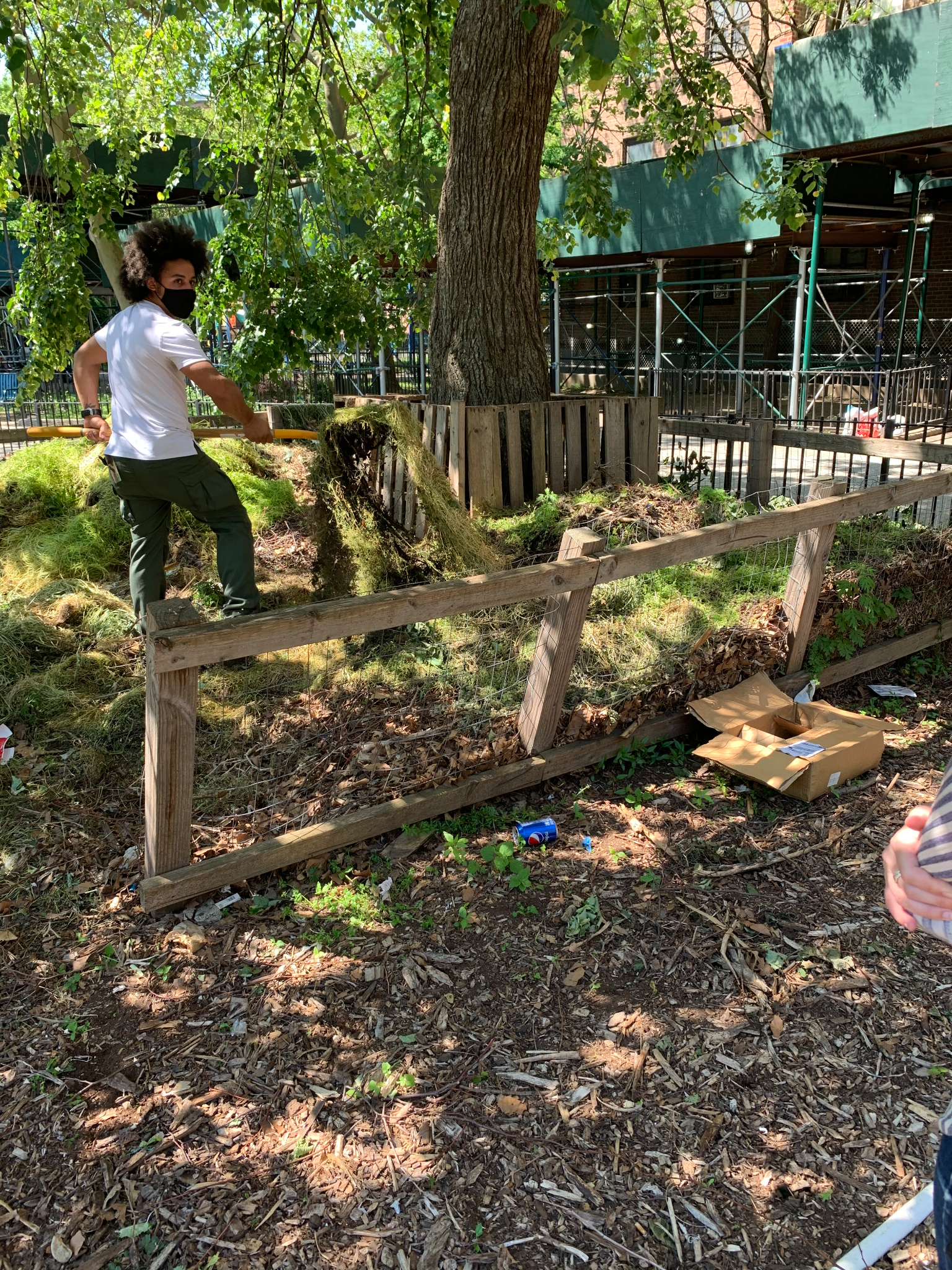 Our team, along with Compost Power's Domingo Morales, built capacity at Compost Power via four work streams: hiring, training, marketing and communications, and partnership building. We focused primarily on:
Aligning with Green City Force's workforce development resources to facilitate the hiring of qualified community members for a variety of on-site roles;
Developing training materials specific to Compost Power to ensure that future employees have the knowledge needed to succeed in the field and the organization;
Working with designers at Partner & Partners to outline and develop web-based and print brand identity; and
Facilitating a community partnership in Queens where Compost Power has sought to expand its footprint.
Through our partnership, we've learned that success in green entrepreneurship or M/WBEs comes from knowing your landscape deeply, and focusing on your core services. Domingo knows the composting landscape (where composting sites are located, who operates them, what methods of composting are used, etc) and his core services (training others to compost and operating compost sites for NYCHA residents), so identifying partnerships and avoiding overlaps puts Compost Power in an advantageous position to grow. Partnering with organizations that specialize in areas that his small business does not frees him up to focus on the portions of the business where he adds most value. This cooperative mindset leads traditionally independent entrepreneurs to become influential through creating and sustaining long-term services and careers.
Authors ↓
Polina Bakhteiarov is an experienced real estate/urban development professional working to leverage the market potential of our cities' assets via public-private partnerships. Polina has built capacity and capital for small and MWBE businesses in Washington, DC and Newark, NJ, and recapitalized over 5,600 NYCHA apartments through HUD's RAD initiative.
Matt Khinda is a designer and urban planner trying to make cities better for the people who live in them. His work looks to inform and empower communities, helping them share the history and shape the future of the places they live. Previously, he's worked at the NYC Mayor's Office for Economic Opportunity and was a Public Access Design fellow with the Center for Urban Pedagogy.
Darina Mayfield is a Project Manager with NYSERDA's clean energy workforce development and training program. Prior to joining NYSERDA, she produced multimedia distance-learning content for the Research Foundation for SUNY. Darina has extensive experience in community-based social work and holds a Masters in Sustainability in the Urban Environment.
Neil Muir is a Mechanical Engineer supporting Arup's building and infrastructure groups in the NY Office. His mechanical and sustainability designs range from large interdisciplinary campus projects to single room energy and airflow analyses. He is a LEED AP and holds a M.Eng and B.Eng from The Cooper Union.
Aden Munassar is an urban planner and artist. She serves as Senior Advisor in NYCHA's Capital Projects Division, which carries out the Authority's energy and sustainability programs. Aden is also a founding member of PublicWorks with The Public Theater, an arts-activist ensemble that seeks to put community at the heart of theater.
Karen Narefsky works with ANHD's member organizations on campaigns to promote equitable economic development throughout New York City. She has over seven years of experience leading campaigns for affordable housing, economic justice, and development without displacement in both New York and Massachusetts. She speaks Spanish, French, and Portuguese.