Nighttime Design Criteria: Placemaking After-dark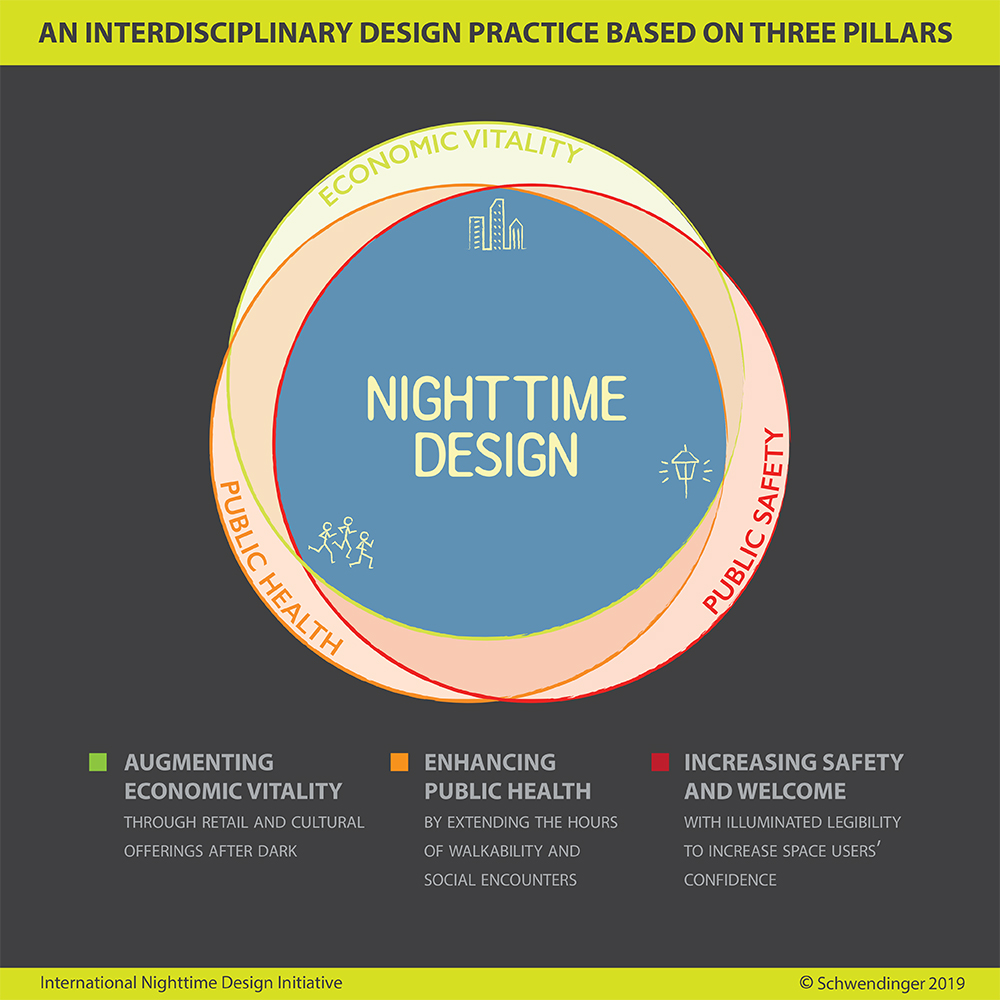 It is time cities consider a range of criteria – user equity, economic viability, and health – and light in nighttime design and planning initiatives.
By Leni Schwendinger, with Daleana Vega Martinez and Fatima Terin
As the sun sets, 9-to-5'rs leave their place of work. By 11:00pm clubbers are prowling the city and third shift workers are just starting their "day." With night activities and flexible working hours increasingly redefining urban experience, greater emphasis should be focused on the after-dark environment. Which transformational public palettes – design, policy, zoning – can successfully enlarge New York City public space inhabitation and work opportunities?
Building upon the recently formed NYC Mayor's Office of Nightlife with its appointed Night Mayor, let's shine a laser on our "city that never sleeps" to improve the nighttime experience. Methodologies should include: the creation of integrated guidelines for strategic and operational nighttime design, and identification of resources required for this game-altering endeavor. In sum, empower the private and public sectors to consider placemaking methods for vibrant nighttimes.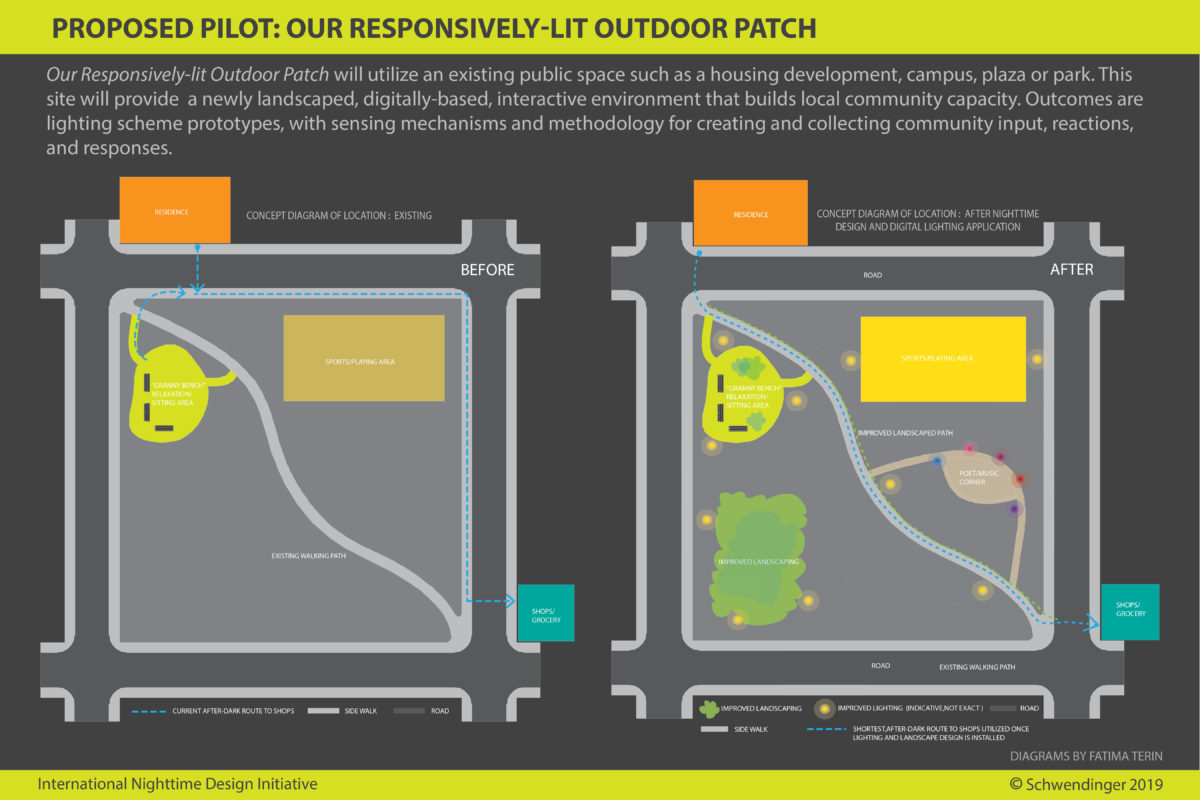 Enhancements to nighttime in cities flow from three main objectives: enhancing economic vitality, improving public health, and increasing safety and welcome. With these pillars in mind, nighttime design must be rooted in community-engagement methodologies while collaborating with municipal agencies and influencing policy.
• Economy: Night industries such as dining and entertainment, as well as transportation/transit, medical and sanitation, employ thousands of people and draw tourists and residents to enrich commercial enterprise. Lighting best-practice techniques, such as connective, "smart", technologies, save city funds.
• Public Health: Walkability is a new standard for city streetscape design. Wayfinding increases intuitive navigation. Inspiring pocket parks, plazas and seating optimized for after-dark usage encourage a mix of exercise and social interaction.
• Welcome and safety: City-wide strategies such as Vision Zero and increased mobility options establish safer streets. Incorporating social research and enabling tactical approaches such as responsive lighting pilots develop a sense of "ownership" and pride. Temporally-based policy to grapple with alcohol and drug-related violence is another tool for safer nights.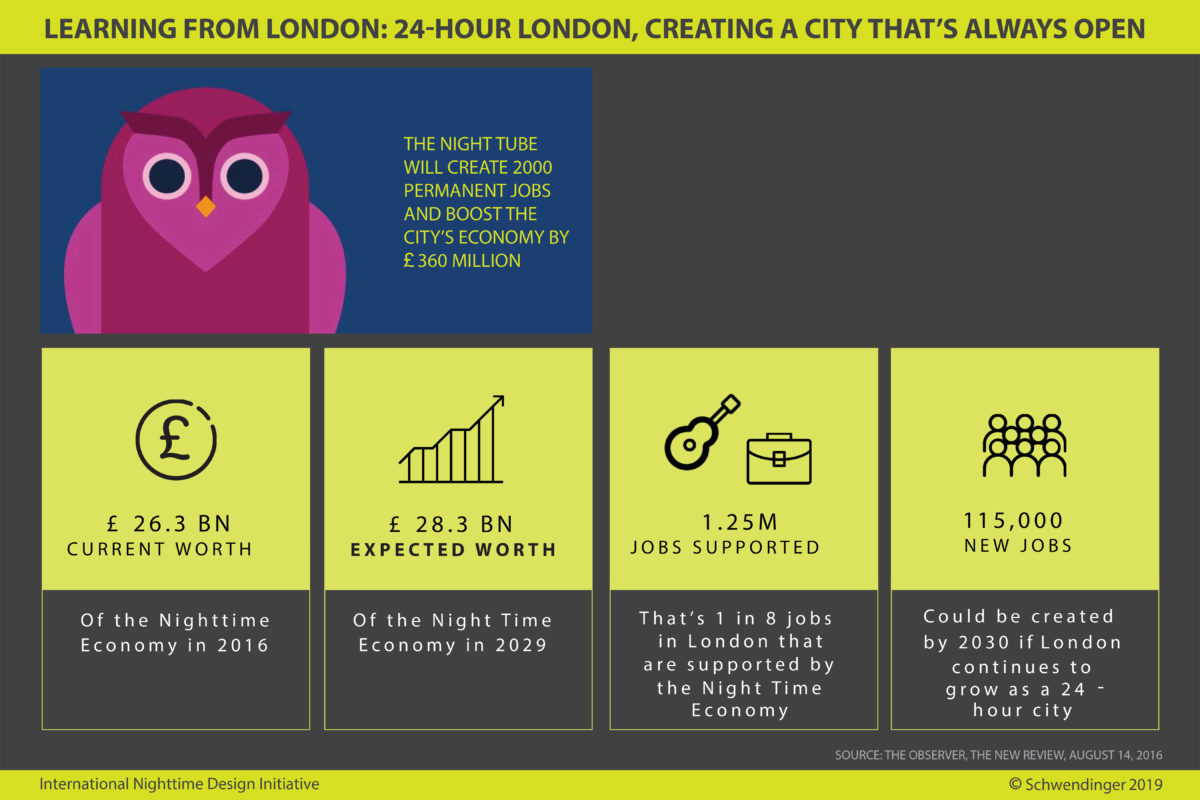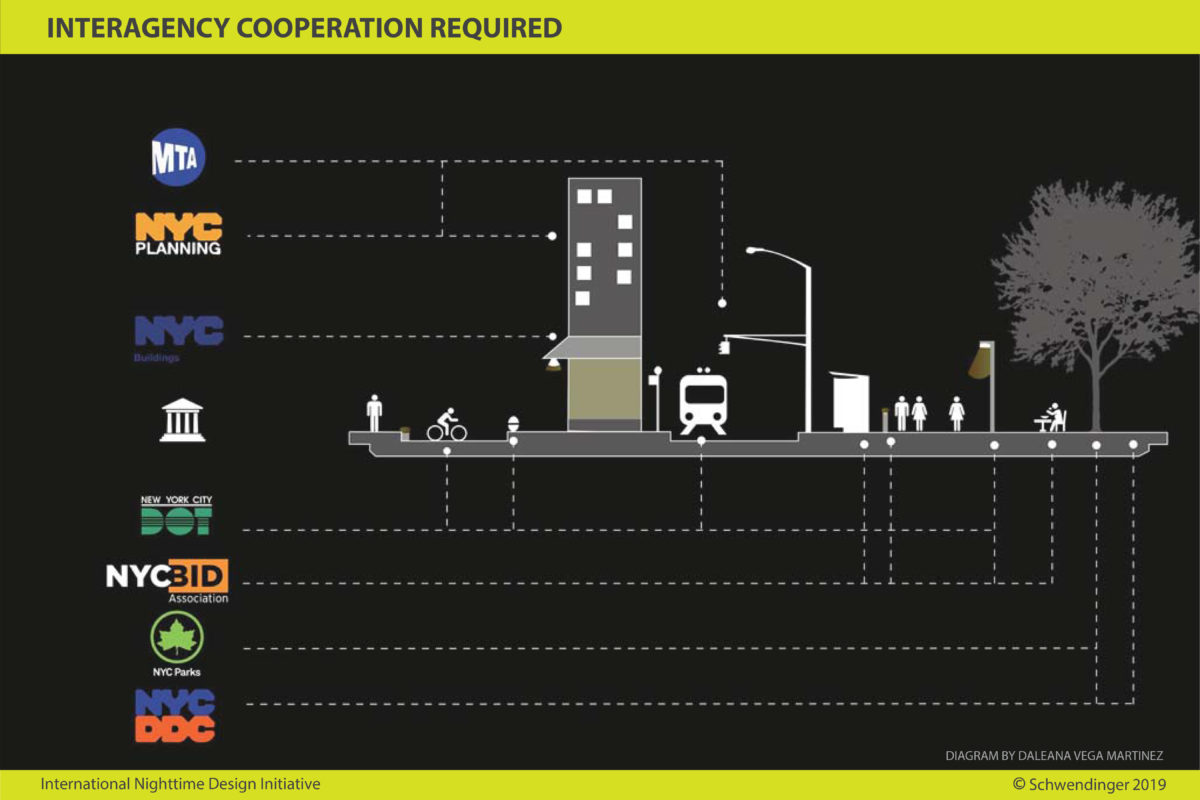 New York City has joined other global cities such as London, Sydney and Amsterdam with its recently passed Local Law 2017-178, amending the City Charter to establish an office of nightlife and advisory board. Internationally, such programs initially focus on quality of life issues arising from liquor consumption and "noise" and, on the positive side, the value of live music and performance. If the NYC program follows the best practice trajectory in other cities, the next step will be a focus on culture, expanding scope to overall night planning and design opportunities that affect everyday life in our city after-dark.
It is time to re-draw city design visions to include the hours of darkness. This is an invitation to urbanists who believe in places that are welcoming, heterogeneous and inclusive from dusk to dawn. Let's add "nighttime overlay" to the language of city planning.
–
Leni Schwendinger is a published, award-winning authority on issues of city lighting. With over 20 years of worldwide experience, she has created illuminated environments at major infrastructure sites such as subways and bridges. Currently, she is directing a startup, the International Nighttime Design Initiative. This proposal was written in collaboration with Daleana Vega Martinez and Fatima Terin of the International Nighttime Design Initiative.