Advance Fair Fares For All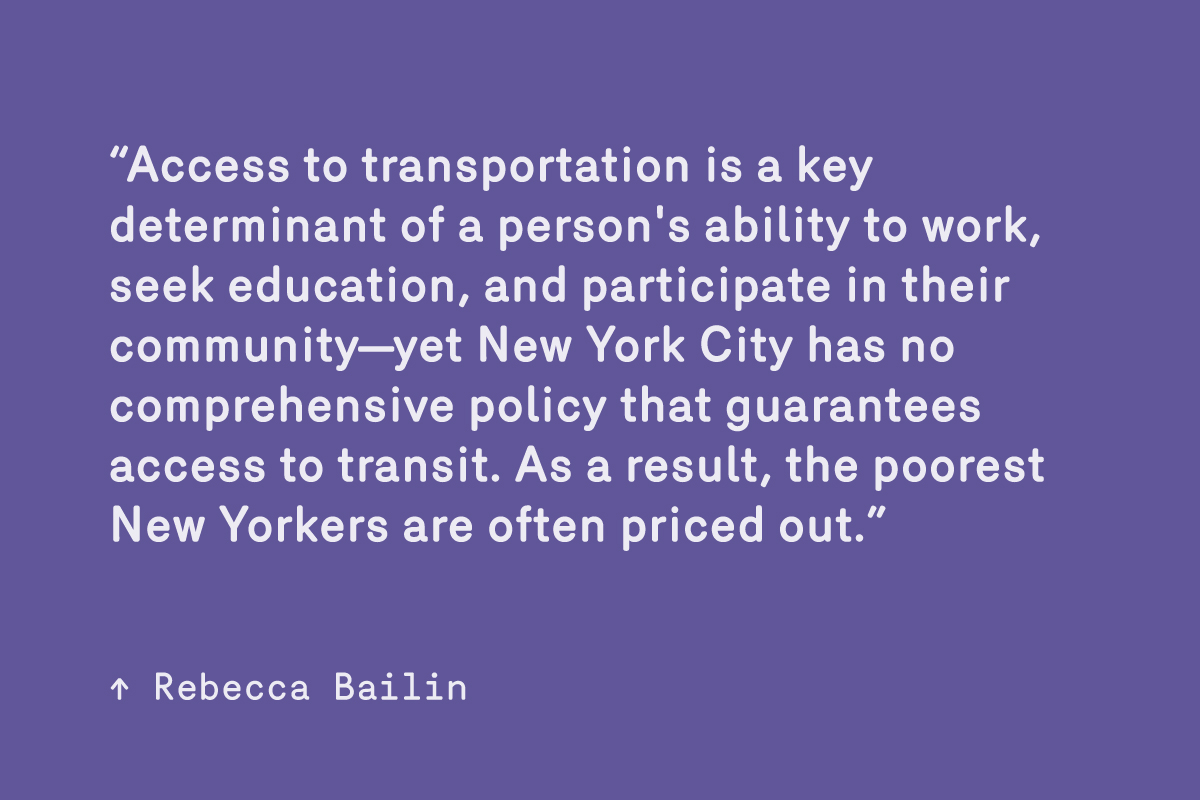 Access to transportation is a key determinant of a person's ability to work, seek education, and participate in their community—yet New York City has no comprehensive policy that guarantees access to transit. As a result, the poorest New Yorkers are often priced out.
Public transit today is out of reach for the City's poorest residents. Every New Yorker deserves a Fair Fare!
The problem today is significant: one in four working-age, low-income New Yorkers report they are often unable to afford public transit.1 Current fares keep people where they are: many are forced to take jobs close to home, college students struggle to get to class, families must coordinate trips to share one MetroCard, and some New Yorkers skip meals to commute. For lack of $2.75, some resort to jumping the turnstile, an act that can snowball into involvement with the criminal justice system. As fares rise year after year, the freedom of weekly and monthly unlimited passes are increasingly out of reach for low-income residents.
Our Fair Fares campaign treats public transit as the necessity it is. In April 2016, we launched a campaign to call on Mayor de Blasio to fund half-priced MetroCards for low-income New York City residents. Our proposal could save 800,000 New Yorkers up to $726 annually each from the cost of monthly passes, and would shift how our society considers public transit. The proposal has been endorsed by the New York Times, Daily News, and El Diario among other publications; and is supported by the Public Advocate, City Comptroller, four Borough Presidents, forty members of the New York City Council, and a broad coalition of over fifty community organizations, including labor and criminal justice groups.
The time for Fair Fares is now. As the president prepares an unprecedented assault on our country's social safety net, there is a new pressure on state and local governments to provide protection for vulnerable communities. Fair Fares can do that. It addresses income inequality—an issue the mayor has committed to combating—and, unlike many other proposals to improve life for low-income New Yorkers, is something the City can do without requiring action from the State. A recent Community Service Society survey shows that more than 70% of New Yorkers support this proposal2—it's time for the city to recognize that access to transit is essential for everyone!
–
Rebecca Bailin is Campaign Manager at the Riders Alliance, a grassroots advocacy organization fighting for reliable, affordable, world-class public transit in New York. She is the lead organizer for the #FairFares campaign.
1Harold Stolper and Nancy Rankin, The Transit Affordability Crisis: How Reduced MTA Fares Can Help Low-Income New Yorkers Move Ahead, Community Service Society of New York, 2016, https://www.cssny.org/publications/entry/the-transit-affordability-crisis.
2Harold Stolper and Nancy Rankin. The Transit Affordability Crisis, 2016.