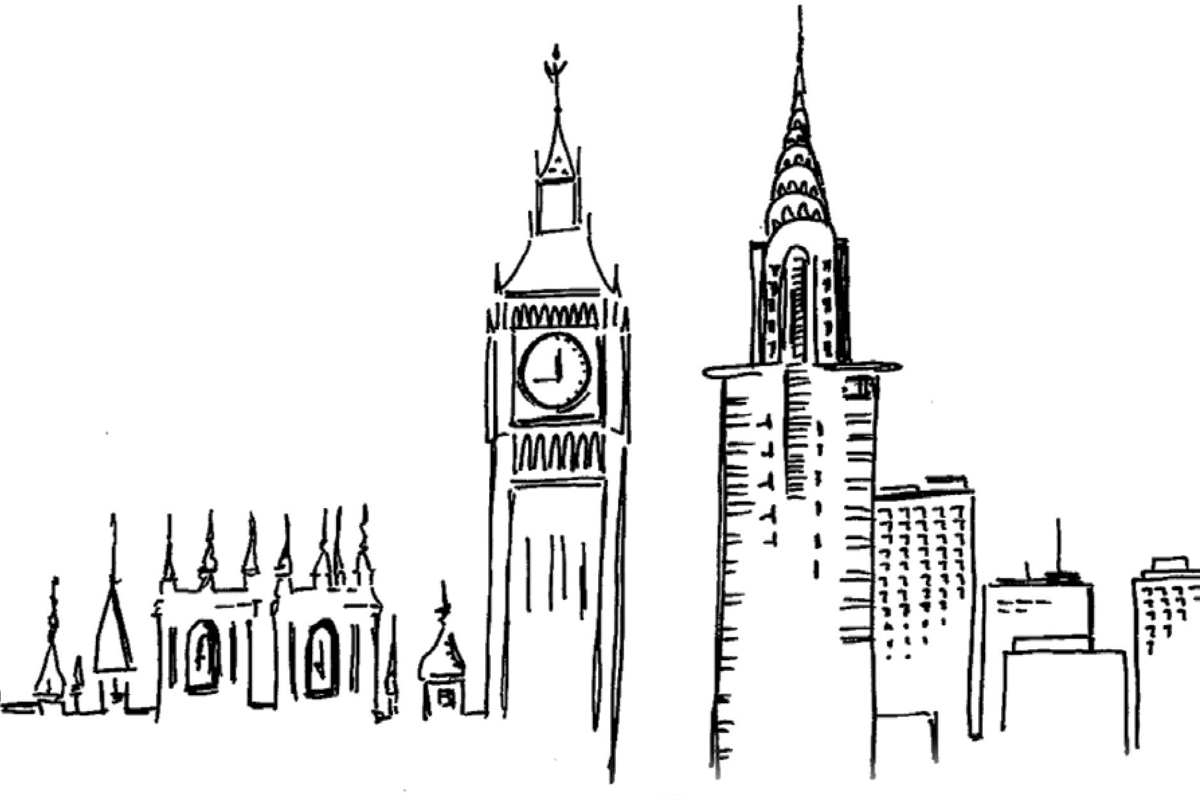 Courtesy of New London Architecture
April 10th, 2013
8:30am - 10:30am
London is powering ahead of New York in its transport infrastructure provision with projects like Crossrail, high speed rail and underground upgrades set to have a transformative effect on the city. But despite New York having struggled to find the money and political will to get modernisation onto its programme, the UK capital is still trailing behind in its quest to sort out its aviation capacity shortfall.
These were some of the issues to emerge in the latest in NY-LON, the series of live NLA link-ups between New York and London property and design professionals, held on this side of the Atlantic at KPF's offices in Covent Garden last week.
The subject in hand this time was infrastructure, with AECOM's Christopher Choa detailing the way that transport 'creates the city for us', having gone through many waves of evolution from ships, to railways, to roads, to aviation. London and New York, he said, have traded and exchanged for centuries, but there are some interesting comparisons to draw upon from today in the two cities. London's urban area at 607 square miles is twice as big as that of New York, with higher densities equating to shorter commuting times. London is also doing relatively well in the Mercer index, which ranks cities by the urban infrastructure they can boast, coming in at 7th place as opposed to NY's 30th, with Singapore at the top of the tree. London also has three times as many buses (and pubs) as New York and more funds committed to the underground, spurred on by the Olympics. Moving forward, Crossrail will have a catalytic effect, with extraordinary opportunities represented by the stations and Crossrail 2 offering similar potential, north-south. High speed rail is London's big strategic connectivity to Europe, and because of it, 80% of travel between London and Paris now goes by rail, with HS2 another rail scheme with benefits for London's connectivity.
But aviation is perhaps the critical issue facing the capital right now, said Choa, although people have been worrying about this since the 1940s and 1950s. With Heathrow at 99.1% capacity, an independent commission will make recommendations for a new hub airport – New York has two to London's one, despite having fewer annual passengers and international destinations – but probably not until after the elections.
Jeffrey M Zupan from the Regional Plan Association said that New York's transit system is also quite old, with precious little built since the 1930s, and 93% of highways are 40 years or older. Good things happening recently include the fact that New York has stopped growing its highway traffic, with vehicle miles of travel over the Hudson River having gone down. Subway ridership has leapt, partially due to the economic rebirth of the city, reliability of the service, and drop in crime. But although the mayor has done an 'extraordinary job for city streets' the MTA is 'terribly underfunded on capital programme, with a shortfall of $10bn or worse, meaning 'we're at dire straits.' With no money for the capital programme there will be sacrifices made elsewhere, most likely in expansion.
Even those schemes which have come forward have been slow in the making. The Second Avenue Subway, first proposed in the 1920s, saw its construction stopped in early 1970s and the first phase of less than two miles scheduled for completion in 2016. Another scheme, East Side Access – to bring Long Islanders to job concentration in east Midtown – was first proposed in 1967 but was also stopped in the early 1970s and it is hoped will open now in 2019, although having increased in cost by three times. There is a lack of political support for new sources of funding, while ageing assets are in need of repair and replacement. 'We're dependent on a process that is removed, often, from what the system needs', said Zupan. Although there is the 'daily miracle' of moving seven million people a day through the system, he added, 'we need to tear down some of these walls in agencies that are creating arterial sclerosis in our system.'
The session also included an observation from Westminster's Graham King that when the real history of London of the last 20 years is written up we will see how close to being closed down some of our infrastructure systems had been, or else been deemed unsafe. And from the GLA's Fiona Fletcher-Smith how, despite New York's 'downbeat' presentation, London was 'pinching ideas' including that for a High Line Park in east London. The key lesson for New York from London, however, was the system it uses to bring together transport issues with investment decisions and the planning process. 'It's a fairly one-word answer', she said. 'The mayor'.
–

David Taylor, Editor, New London Quarterly
About NYLON ↓
Hosted with New London Architecture, the Center for Architecture, and Kohn Pedersen Fox, our transatlantic exchanges bring together industry professionals in New York and London to share knowledge on key issues in both cities, from affordable housing policy to tall buildings.