June 17th, 2021
6:00pm - 7:30pm
via Zoom
Kizzy Charles-Guzman is a Deputy Director at the New York City Mayor's Office of Climate and Sustainability where she leads the social and environmental policy team. Prior, Kizzy served as the Deputy Director for Social Resiliency at the NYC Mayor's Office of Resiliency, and as Director of the Climate Change and Public Health Program at the NYC Department of Health and Mental Hygiene. She received the U.S. Environmental Protection Agency's Environmental Quality Award, and a Champion of Change Award from the U.S. White House in recognition of her work.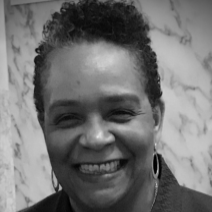 Tonya Gayle is Executive Director of Green City Force, where she created and led the development team from July 2014 to September 2020. She is a board member of The Corps Network and Environmental Advocates of NY. Prior to joining GCF, Tonya served in public-private partnerships at the New York City Housing Authority (NYCHA) and the Sponsors for Educational Opportunity (SEO) Career Program. She has spent most of her career in nonprofit organizations focused on economic justice for young people of color.

On June 17, the 2020 Forefront Fellows with Kizzy Charles-Guzman and Tonya Gayle discussed building a just, green economy in New York City.
Over the past year, Forefront Fellows have investigated how climate investment can spur a more inclusive economy. Last fall, our Fellows partnered with the Office of Deputy Mayor J. Phillip Thompson to research supporting minority-owned businesses and worker cooperatives in the building retrofit market.
This spring, Fellows developed original projects that explore how to build local power through composting, develop innovative financing for green cooperatives, and scale green entrepreneurship.
Following project presentations from the Forefront Fellows, Kizzy Charles-Guzman and Tonya Gayle joined a keynote conversation on realizing ambitious and equitable climate action.
Listen back below.
Forefront Fellows ↓
Rooted Resiliency
Jhordan Channer, WXY Studio
Andrew Harris, Dattner Architects
William Hsu, CDP
Sheila Lin, Adjaye Associates
Stefanie Loomis, Snøhetta
Priya Mulgaonkar, Hester Street Collaborative
Shachi Pandey, MUD Workshop
Alexandra Paty-Diaz, NYC Planning
Ebony Wiggins, Workforce Development Consultant
Cooperative Business Roundtable: Demystifying Cooperative Finance
Ricardo Aaron Carrillo, KPF
Jen Grosso, Alloy
Jonathan Lane, NYCEDC
Tiera Mack, Pitkin Avenue BID
Cara Michell, WXY Studio
Kate Selden, Los Sures – Southside United HDFC
Addison Vawters, NYC HPD
Annie White, NYC Planning
Compost Works
Polina Bakhteiarov, Omni New York
Matthew Khinda, NYC Mayor's Office for Economic Opportunity
Darina Mayfield, NYSERDA
Neil Muir, Arup
Aden Munassar, NYCHA
Karen Narefsky, ANHD
Meet the 2020 Forefront Fellows ►
Guest Policy ↓
The Urban Design Forum promotes conversation between invited civic leaders, designers, developers and advocates. The Cooperative Works Capstone event is open to the general public. Forum Fellows are encouraged to invite additional guests to participate. Learn more about becoming a Forum Fellow.
About Forefront ↓
Forefront is an annual initiative cultivating emerging leaders in urban design, development and policy. Our 2020 Fellowship, Cooperative Works, explores how to support minority-owned businesses and workers of color, expand worker cooperatives, and democratize economic resources to build a more inclusive economy.
This program is made possible through the support of Robert Sterling Clark Foundation and our Director's Circle. To learn more, please contact Daniel McPhee, Executive Director, 646-928-0553 or daniel@urbandesignforum.org.
2021 Forefront Fellowship ↓
Our 2021 Fellowship, Neighborhood Fare, will explore how to foster food equity in every New York City neighborhood through the built environment. Learn more and apply.