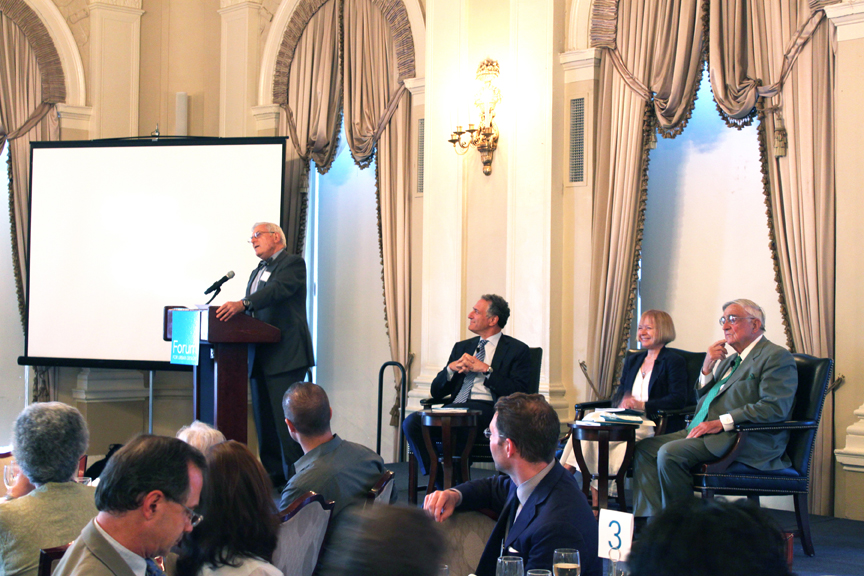 July 30th, 2013
6:30pm - 8:30pm
Yale Club of New York
50 Vanderbilt Avenue, New York, NY, United States
On July 30, the Forum hosted the Next New York Fellows Dinner to celebrate the culmination of the Next New York series. Daniel Doctoroff (Bloomberg LP) and John Zuccotti (Brookfield Office Properties) joined Julia Vitullo-Martin (Regional Plan Association) in conversation about new directions for the next mayor. What were the most pressing challenges facing New York City? How would the next mayor attract not only new businesses but also new creative talent?
Zuccotti maintained the two keys to the city's success were affordable housing and good transit. Doctoroff suggested that the outer boroughs were key to the city's economic growth and the development of new affordable housing. And while they rallied around many of the Next New York proposals, from express connections to the airports to modular housing, they could not agree on one proposal: that the city's capital budget should be restored to the City Planning Commission.
For more information about the Next New York proposals, contributors, and series, click here.
Photos:

With Support From:
Kohn Pedersen Fox Associates