Call for Video Storyteller
Overview
Urban Design Forum (UDF) seeks an independently contracted video storyteller to document the inaugural projects of the Local Center, a new community design network in partnership with the Association for Neighborhood and Housing Development (ANHD). We encourage civic minded storytellers who are interested in telling the stories of five neighborhood based public space projects in New York City to submit.
Submissions are due May 23rd.
About the Local Center
The Local Center connects neighborhood leaders, designers, and government agencies to transform public space across New York City. Beginning this spring, UDF and ANHD will equip five neighborhood organizations with technical assistance, funding, and connections to reclaim public spaces for new cultural celebrations and storytelling.
The Local Center aims to support neighborhood leaders to shape public spaces in their neighborhoods. Local organizations who advocate for their communities day in and day out know best what their neighborhoods need. Through new connections to local organizations, designers can support them to bring their visions to life. Our goal is to create meaningful opportunities for community leaders, designers, and city agencies to model design approaches that center community visions, resulting in more just and joyful public spaces across the city.
With projects launching in June 2023, we aim to contract a video storyteller who will capture the process and outcomes of the 18-month collaborations. Through video documentation of this work, we aim to:
Demonstrate the impact of community-driven design collaborations
Support our neighborhood partners in advocating for further investment in their projects
Share lessons learned with community-based organizations, City government, and the design field to advance a new movement of community-led public space design
See below for project descriptions.
Scope and Deliverables
Contractor will work closely with UDF and ANHD staff, along with community-based organizations and multi-disciplinary design teams to document the project process and outcomes for five neighborhood projects, along with key activities of the Local Center as a whole. We are excited to work with the video storyteller to strategize how best to tell the stories of these collaborative projects, and how the narratives can aid in building a broader movement of community-engaged design.
Contractor will document a wide range of project activities, including:
All project sites before, during, and after project interventions
Project activities including site visits, team meetings, community engagement activities, and learning community workshops
Public space activations and celebrations such as street festivals, fairs, markets and and art installations
Reflections from design teams and partners at key milestones
We will work with the video storyteller to strategize desired deliverables. We anticipate deliverables may include:
5 short videos (1-3 minutes in length) focusing on phase one of each project – community engagement and design visioning, by Winter 2023
5 short videos (5-8 minutes in length) focusing on phase two of each project – public space activation and community celebration, by Winter 2024
One short video on the Local Center as a whole, demonstrating the program model and lessons learned across the five projects
30 second – 1 minute video clips as needed
Budget: $25,000 for project duration (June 2023 – December 2024)
Qualifications
We seek candidates who have:
Demonstrated track record of producing accessible, engaging videos
Respectful and empathetic approach to working with project participants
Experience or interest in community-engaged documentation processes
Experience working with communities of color, familiarity with project neighborhoods, and/or proficiency in languages spoken in project neighborhoods encouraged
Ability to navigate speaking to diverse audiences, including program participants, designers, and funders
Capacity to commit to the duration of the project, with an anticipated higher time commitment for documentation in the warm months (May-September)
Must be based in New York City, with ability to travel across the five boroughs
We seek a video storyteller with core skills in video documentation and production, but welcome if you are able to bring additional skill sets, such as photography or graphic design. Please share additional mediums and project examples in submission materials.
We strongly encourage submissions from emerging storytellers, and respondents who reside in, work in, or have led projects in any of the project neighborhoods. Women, people of color, members of the LGBTQ+ community, and individuals with disabilities are strongly encouraged to apply.
Employment data show that women and people from underrepresented groups apply to jobs only if they think they meet 100% of the criteria. If you meet many but not all the criteria and feel you may be a good fit for the role, we encourage you to apply.
Submission Requirements
Brief cover letter highlighting relevant experience, approach, and indicating 2-3 relevant projects (maximum 2 pages)
Portfolio, website, and/or resume, including details of relevant projects listed
Fee schedule, including all expenses such as travel costs
Contact information for three references
Please submit all materials to localcultures@urbandesignforum.org. Submission deadline is May 23rd; materials will be reviewed on a rolling basis. Top candidates will be contacted for an interview in late May.
Timeline
May 23, 2023: Submission deadline
May – June 2023: Video storyteller selected and scope finalized
June 23, 2023: Video storyteller joins program orientation
September 2023 – October 2024: Video storyteller outputs published on a rolling basis
October 2024: Program summit event
December 2024: Program conclusion
For questions, contact Martha Snow, Director of Community Design, Urban Design Forum at martha@urbandesignforum.org
---
Chhaya CDC, serving Jackson Heights and Richmond Hill, Queens, will activate Lt. Frank McConnell Park to celebrate the Indo-Caribbean and Punjabi communities of the area. They will lead a community engagement process culminating in a street fair to celebrate Richmond Hill's heritage, while organizing to develop a long-term vision for the space.
GrowHouse Community Design + Development Group, serving Flatbush and Bedford Stuyvesant, Brooklyn, will develop creative activations around the Flatbush African Burial Ground and support a community engagement process to establish a long-term vision for the space. They will advance their work to develop a Black history corridor connecting sites of resistance and connection in Central Brooklyn.
Queens Community Justice Center-The Rockaways (QCJC-TR), serving Far Rockaway in Queens, will celebrate the resilience of Far Rockaway and provide safe spaces for people to be together in community. They will activate shared spaces on NYCHA campuses through resident-led street festivals and cultural programming that uncovers the local history of Far Rockaway.
Staten Island Urban Center (SIUC), serving Tompkinsville, Staten Island, will activate Tompkinsville Park as a community asset to uplift the richness of Afro-Caribbean culture through food, art, dance and music grounded in the memories of ancestors. They will launch a food and spice market that brings visibility to Black, Afro-Caribbean, and Latinx communities in Staten Island.
Youth Ministries for Peace and Justice (YMPJ), serving Soundview and Bruckner, Bronx, will activate the future site of the Soundview Economic Hub — a currently vacant space underneath the Bruckner Expressway — with temporary art installations that honor the history of self-determination in the Bronx.
Learn more about the Local Center.
---

About the Urban Design Forum
Urban Design Forum mobilizes civic leaders to confront defining issues in the built environment. We are an independent membership organization that empowers professionals of diverse backgrounds, industries and perspectives to shape a better future for all New Yorkers. We investigate complex challenges in the built environment, study alternative approaches from cities around the world, and advance progressive strategies to build a more democratic city.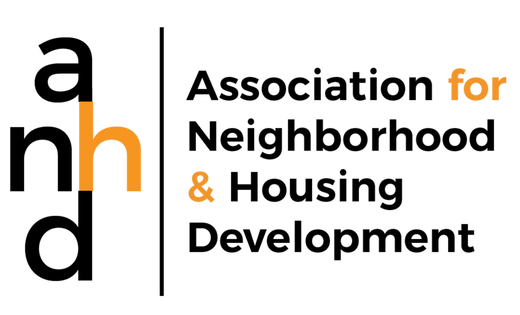 About the Association for Neighborhood and Housing Development
Association for Neighborhood and Housing Development (ANHD) builds community power to win affordable housing and thriving, equitable neighborhoods for all New Yorkers. As a member organization of 80+ community groups across New York City, we use research, advocacy, and grassroots organizing to build equity and justice in low-income, historically marginalized neighborhoods and city-wide.